Shoulder heating pads for rotator cuff pain.Built-in infrared heating pad for shoulders,Promotes blood circulation, and relieves the pain caused by shoulder frostbite, Rotator cuff tear, Sprain, Tendonitis, Paralysis, Strain, Stiffness and soreness.

3 Heating temperatures.Shoulder heating pad easy to operate,Comes with an adapter, plug it into the wall socket to use. Long press the button for 3 sec.onds to turn it on/off, short press the button to switch mode. Great for use when you're watching TV or reading a book on the sofa at home.

Heated shoulder wrap for men and women. Adjustable shoulder straps can be worn on either shoulder. The shoulder straps are adjustable in length to fit any body type.

The frozen shoulder heating pad for rotator cuff pain is made of high-quality neoprene material, durable for long-term use.Use continuously for 45 minutes, the wrap will automatically shut off to prevent overheating.

Heating pad for neck and shoulders is Ideal Christmas Day or holiday gift for your family and friends.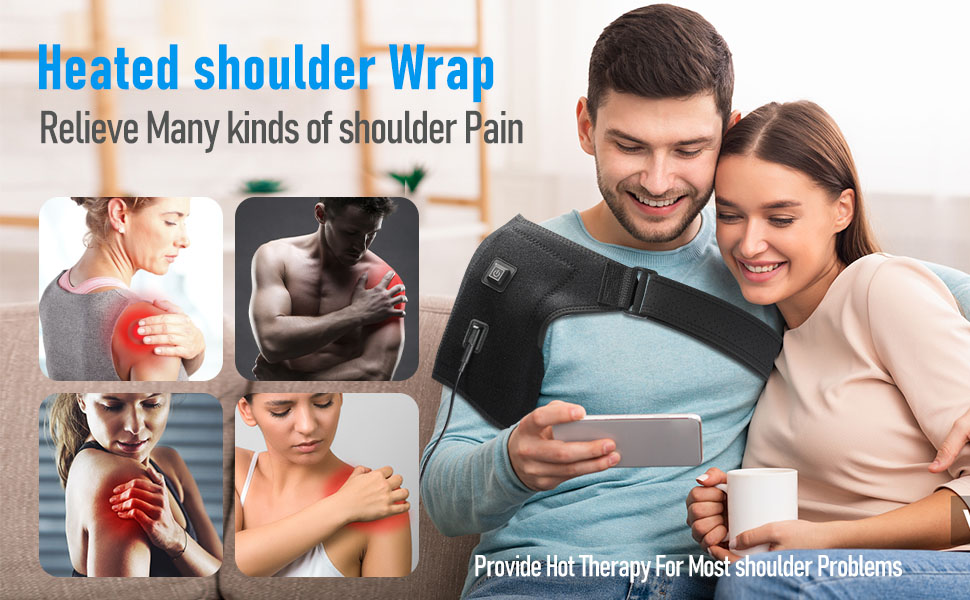 Shoulder Heating Pads for Rotator Cuff Pain
With an electric shoulder pad, you can feel the heat delivered to your shoulder. The benefit of this physical therapy is that it can help increase blood circulation and relieve pain.
Shoulder Brace Wrap helps relieve shoulder pain and relax muscles. Helps reduce rotator cuff injuries or shoulder dislocations and speed up the recovery from injury.
NOTE:
In order to prevent burns, Don't shoulder heating pads directly into the skin. Use a towel, cloth or sheet as an interface between product and your skin



Hold down the button for 5 seconds to turn on the heat
One Button Control 3 Heat-Settings:
1. Connect the shoulder brace to a power spurce and longpress the led button for 5 seconds to turn it on.
2. Short press the button the LED indicator will fhash ini various colors change to another heat setting.
Red (140°F to 150°F )
Blue (122°F to 140°F )
Green (104°F to 122°F )
Overheat protection: work for 45 minutes, automatically stop, play a protective role. Use the shoulder heating pad and hold the button for another 5 seconds.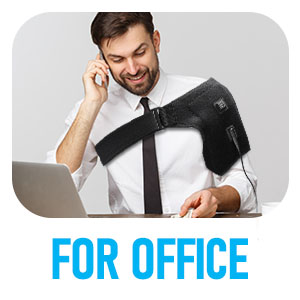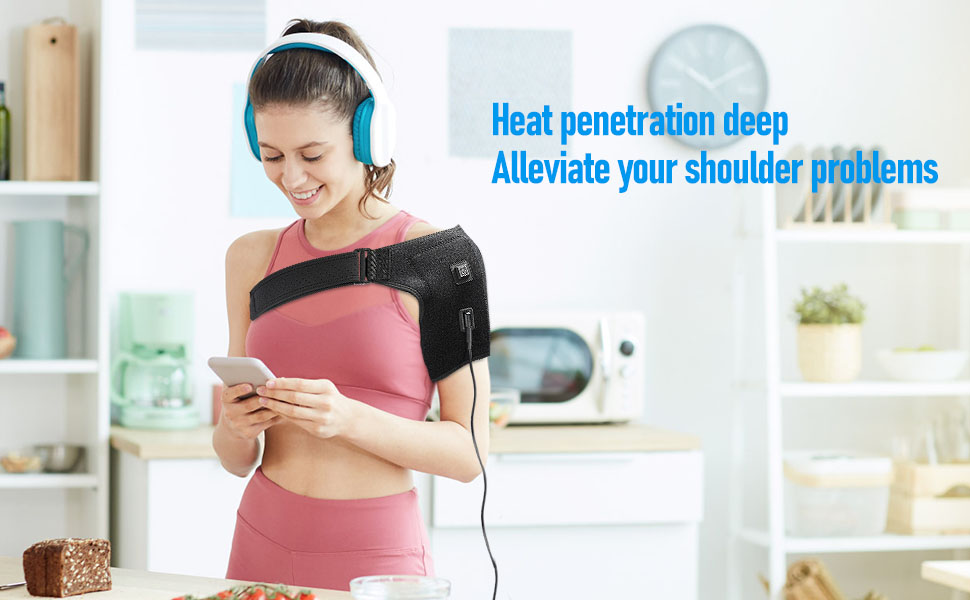 Relieve shoulder problems - Heating pad for neck and shoulders
Once the shoulder has problem, it will hinder our ability to move freely and may cause great pain and discomfort when we use our arms and fingers.
If you have the same problem,then you maybe need Heating Shoulder Wrap, Shoulder heating pad which offers complete pain relief and relaxation to muscles and reduces stress, Helping accelerate recovery from injuries.