Flies. Irritating, itchy and inevitable. They are a shared, mutual issue that all animal owners have to put up with every year. We ask you again, are you prepared?
We are proud to say The Ranch Fly Trap works in any area there are flies and will work to keep flies off your animal no matter the species. (Horse,cow,duck,chicken,sheep,dogs,wolves,pigs,
the list is endless).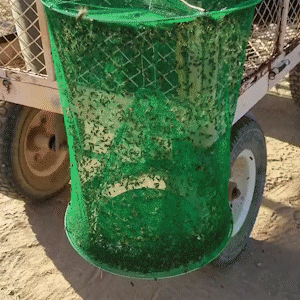 In places where flies are concentrated, thousands of flies can be caught a day, which makes fly catching more efficient.
Easy to tear open outfit. More convenient, bottom iron frame, convenient placement of bait basin.

Used in a variety of occasions, green non-toxic, no harm to people and pets.

Anti-corrosion, sunscreen nylon wire + thick wire, use more durable.

Adopt thick galvanized iron wire (2.8mm), the product size is larger.
Setup is a breeze!
Load tray with bait and place tray in the bottom ring. (

You can grab some of ours below

or make your own, anything super smelly works!)

Hook the 2 interior hooks together to form the funnel which traps the flies.

Hang somewhere & watch it fill up with flies!

How long does each trap last?
Each trap will last around 3 months, you can then decide whether to empty it or replace it with a new one since it will be full of flies. Be sure to replace bait regularly to keep attracting flies.
Specifications:
Flytrap: use bait to lure a fly into the cage and die of lack of food.

Size: 20x20x44 cm.

Name: Fly trap.

Weight: 120g.
Color: Green.
Package Include:
Notes:
Due to the different monitor and light effect, the actual color of the item might be slightly different from the color showed on the pictures.