Introducing The
 

Simplest Way To Weld Aluminum Parts – No

 

Expensive Equipment Required. All You Need Is A Propane Torch, And Some Super Melt Welding Rods.


No fluxes and no fumes are required (however, you can use some flux if you feel it will do a better job). These welding rods make a sound joint, stronger than the parent metal and can join thin and thick parts together. Its corrosion resistance is excellent and has minimal or no distortion to the parent material.


Welding Instructions:
Thoroughly clean the area you're about to weld by brushing the base with stainless steel brush until it becomes shiny. Then evenly heat the area to be welded.
As you heat, rub the rod vigorously against the heated area until the rod starts flowing.
Please Note: Never apply heat directly to the rod as it will crumb, and if you manage to melt the rod directly, the weld will be easily breakable. Remember, melting the rod directly is a wrong way, and makes crumby welds.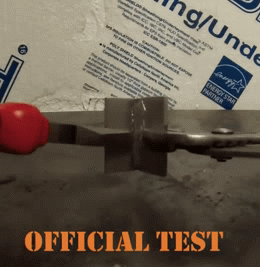 Uses:
The Super Melt Welding Rods are

 

high-quality special Aluminum-alloy rods

 

used to weld/braze primarily Aluminum and Aluminum alloys but can be used to braze any other non-ferrous materials except for stainless steel.
Recommended for welding or brazing aluminum alloy: 1060, 1350, 3003, 3004, 3005, 5005, 5050, 6053, 6061, 6951, 7005, and cast alloys 710.0 and 711.0
Applications include truck beds, loading ramps, docks, diamond plate, irrigation piping, engine blocks, transmission housing, etc
Meant for small repairs. For any repairs that would cause endangerment of safety if not fixed, we recommend to completely replace instead of repairing your parts.
Specifications:
Material:

 

Aluminum-magnesium
Melting temperature:

 

< 896°F (480°C)
Application:

 

Aluminum and aluminium alloy welding/brazing
No emitting of gases or toxins, No Lead content included.
Excellent corrosion resistance.
Minimize parent material distortion

 

during welding.
Size:

 

19 x 0.3 x 0.3 inches.
Package Includes: 10 pcs Welding Rods