Wearing Shoes Has Never Been Easier!
Do you feel like you're constantly straining your back every time you try to put on your shoes?
Get extra ease and comfort as you wear your shoes with the remarkable Wear Shoes Helper!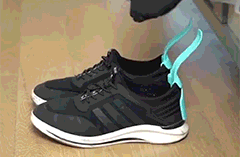 ☑ Protect your footwear and never have to bend over to wear them again with this remarkable tool!
☑ It conveniently clips on your shoes so you can instantly get your shoes ready to go!
☑ It's the perfect shoe helper for kids, the elderly, and anyone else!
Easily slip on your shoes in an instant with the remarkable Wear Shoes Helper!
Extremely Durable With Amazing Flexibility!
▶ Made of premium quality ultra-durable PP plastic material that is guaranteed to last for years!
▶ It features an innovative curved shape that is made to prevent your shoe from bending as you slip your foot inside!
▶ Ergonomic sleek edges with unparalleled precision curves to provide you with maximum comfort as you wear your shoes!
▶ It's amazingly universal and can fit in any shoe type or size!
Get maximum comfort and durability with the remarkable Wear Shoes Helper!
Very Easy to Use!
◾ Keep your shoes organized and ready to wear by simply clipping the shoe helper at the edge of your shoes!
◾ Simply slip your foot inside the shoes and unclip the shoe helper as you wear your shoes!
◾ Its incredible design is built to protect you and your shoes from curving!
◾ Wearing shoes has never been so painless and easy!
Make wearing your favorite pair of shoes more convenient with the amazing
Wear Shoes Helper
now!
Especially ideal for those who are:

Elderly
Children
Suffering from mobility problems
Pregnant Women and more
More Information:
Laziest Way to Wear Shoes!


Just clip and glide

in a second!

Curve design

provides great flexibility to bend while trying to slide on your shoes. Perfectly angled for easy gliding for your feet.
For Everyone
Ideal for anyone especially for

elderly, kids

and those who suffer from

narrow shoe shape, mobility problem

.

One Size Fits All
Each standard shoe helper is 6.9 inches long.
Ergonomic Design


Smooth, rounded edges and curvy surface help you comfortably slip into your shoes

without pinching or bulging

, even with wide feet. Prevent improper way of shoe wearing which

causes over-friction

and further pain to

corns, calluses

etc.
Preserve Shoe Shapes
Shoe helper

prevents over pulling

of shoes,prolonging life of your luxurious shoes and keeping perfect shape of your loafers, sneakers, brogues and any types of shoes.
SPECIFICATIONS:
Materials: Soft PP
Size:17.5 x 5 x 2.5 cm
Weight: 19 g
Color: Blue, Pink, Red, White, Gray
PACKAGE INCLUDES: